Why No Updates for so long?
Dearest Surfers,
Im sorry that Fantastic F4 Fansite have not been updating for the whole 3 months. As I am really busy with my studies recently due to streaming exams. However, my exams will end in around 3 weeks time which is 27 Oct 2002. I will continue to update after that. Please wait patiently. Be assured that I am not going to retire as my passion towards F4 had not changed at all.
Some FAQ that surfers do asked during this period:
1) Why are the clips in the Downloads section unable to access?
Reply: I will look into this matter and hope to solve it after my exams. Please wait patiently.
2) Can I have F4 latest news?
Reply: In the past, I used to updated the news in forum very regularly. But since I am having exams, I don't get to go online often. Regular update of news will resume after my exams.
3) Since you are so busy, can I help you to manage this site?
Reply: Currently, I do not need any helper. Reason being, I don't think this small site deserve helpers. Usually there are helpers because the site is popular, well-known and big community. However, this is just a simply plain fansite. Therefore, I don't really need much help.
And also, everything had not been standardize. Therefore, it is very difficult to divide the job and also giving accounts and passwords.
---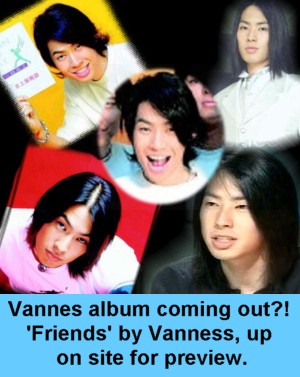 Started: 15 Feb 02
Updated: 7 July 02
News and Forum:
> Any new stuffs, clips, pictures and news will be first posted in the forum, before I report to the site on this front page. Click Here---
> Daily Updated News of F4 can be found in the forum Click Here---
> Therefore, check out this site esp. forum regularly. Click Here---
Gallery:
> More Pictures added, all in the new server picture hosting.
> Added a new server for the pictures hosting, as the old server was full. Therefore, any new updates of pictures will be in the new server in the future. And for searching of old pictures, you can still visit the old server.
Downloads:
> Vanness's new song, 'My Friends' Click Here---
Auctions:
>Closed down officially at Fantastic F4 Site on 24 June 2002.
Webmaster Words:
Sorry not being to update these few days, Due to opening of school. Updates in the future will continue, however, it will not be weekly.. maybe two weeks once or three weeks or even one month. I will try my best to updates as much as I can. You can also visit this site regularly for the latest news that will be posted up-to-date in forum.
Announcements:
It was said that Vanness album will be out soon, check it out. Auctions section will be close on 24 June 2002.
*More coming up: wallpapers, winamp skins, pictures (esp. Ken and Vanness) and etc.. (in the next updates)
*Contributions needed: video clips, pictures (esp. Vanness and Ken, as I have too little of them), wallpapers
please email your contributions to zai4eva@fantasticf4.cjb.net. Credits will be written accordingly.
---
---
Fantastic Four
Create and Maintain by zai4eva
Best Viewed With 800 * 600
Copyright® 2001-2002 ©
All Rights Reserved.